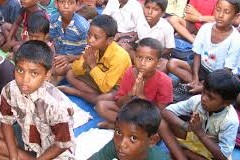 Welcome to The Divine Light
The Divine Light is a National level NGO registered under societies registration act 1860, at the NCT of Delhi. The prime objective of the NGO is to mobilize efforts for overall development of weaker and marginalized section of Indian Society. The organization is implementing various welfare programs in Delhi, Uttar Pradesh, West Bengal and other part of the county and planning to expand its base in near future.
Important Information
THE DIVINE LIGHT was formed and registered under societies registration Act 1860 vide No, 35565 dated 8th Sept 1999 as a non- profit making secular voluntary organization. Registered under Foreign contribution Regulation Act 1976, Reg. No 231660468, Date of Reg. 11 – 05 -2004.
Latest Update
THE DIVINE LIGHT has been organized Henna Work Competition on the eve of Rakhi Festival that is 17th August 2016.
Job Counseling held on 15th July 2016 in The Divine Light training Promises, C-947, Sangam Vihar, New Delhi -110080, by
TRY (Trained Recruits &You), J-189, Upper Ground Floor, Saket, New Delhi -110017.